Biography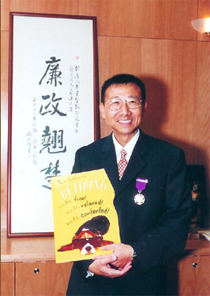 KWOK Man-wai, Tony, SBS, IDS,
Former Deputy Commissioner & Head of Operations,
Independent Commission Against Corruption (ICAC), Hong Kong (1996 - 2002)
BIOGRPAHICAL SUMMARY
Mr. KWOK has 41 years experience in the anti-corruption field, including 27 years of practical experience working in the Hong Kong Independent Commission Against Corruption (ICAC) and 14 years as international anti corruption specialist, travelling to 25 countries in a total of 230+ missions.
He joined the ICAC shortly after its inception in 1975, and hence had witnessed and participated in the successful battle in transforming Hong Kong from a most corrupt place to one of the cleanest city. He was appointed as the first local Deputy Commissioner and Head of Operations in 1996, and had successfully led the Commission through the smooth transition of sovereignty from a British Colony to China in 1997, despite international pessimism.
Whilst serving in ICAC, in 1986, he led a joint ICAC/Police Task Force with 30 officers to investigate the collapse of the third largest local bank in Hong Kong, which involved corruption and fraud resulting in a loss of HK$3 billion (US$385M). This investigation was successfully concluded in 16 months, resulting in five convictions, including the three top management positions of the bank, and two persons were extradited from the United States. The case also acted as catalyst in the formation of the Hong Kong Monetary Authority, paving the way to enable Hong Kong to become the third largest financial centre in the world. He was subsequently awarded a Governor Commendation for his leadership and professional ability in this case.
Since his retirement in 2002, he has been invited to 25 countries and 15 provinces in China to provide professional anti corruption consultancy, lectures, and to conduct anti-corruption seminars and workshops. Countries that he has accepted invitation to visit include the Philippines, Malaysia,Singapore, Thailand, Indonesia, Cambodia, Brunei, Vietnam, Sri Lanka, India, Mongolia, Japan, South Korea, Papua New Guinea, Timor Leste, Kuwait, Mauritius, Nigeria, Georgia , Serbia, Macau and Mainland China. He has taken up a number of anti corruption consultancy projects with the UNDP, World Bank, Asian Development Bank, European Commission, GIZ, JICA, DFID, British Council, AUSAID, USAID, The Asia Foundation and UNODC. He has assisted a number of countries to set up their new anti corruption agencies, including Mongolia, Cambodia, Serbia, Mauritius and Timor Leste. His major projects included being the Chief Advisor to the EU's 3M Euro Corruption Prevention Project in the Philippines in 2005-7; ADB Lead Consultant to conduct a Country Governance Assessment in Mongolia in 2008, International Anti Corruption Expert appointed by ADB & OECD to conduct a review of the ADB-OECD Anti-corruption Initiative for the Asia Pacific in 2009 and as the international anti corruption expert in the UNDP "Capacity Development for Accountable Governance" Project in Serbia in 2010 ; the USAID/MSI project on " Strengthening Integrity and Accountability Program" in Indonesia in 2013-14 and "Mid Career Training Program for Indian Police Service Officers" Project in India in 2014-15.
His international appointments includes being a member of the United Nations Anti-corruption Expert Group (2006); Regional Coordinator of the International Association of Anti Corruption Authorities; Visiting Lecturer of the International Anti Corruption Academy (IACA) ; Visiting Expert of the United Nations Asia Far-East Institute for the Prevention of Crime (UNAFEI); Honorary Anti Corruption Advisor to the Anti corruption agencies in Mongolia & Philippines and Course Coordinator of the Malaysian Anti Corruption Academy.
He travels frequently to Mainland China for lectures or as conference speakers and his appointments in Mainland China include : Visiting Professor, National Prosecutors College, China(中国国家检察官学院客座教授); Visiting Researcher, Tsinghua University Anti Corruption Research Centre, China(清华大学廉政研究中心客座研究专家); Adjunct Professor, Zhongnan University of Economics and Law(中南财经政法大学兼职教授); Honorary Professor, Zhejiang Wanli University(浙江万里大学客座教授); Advisory Committee Member, Shenzhen Qianhai Anti Corruption Bureau(深圳前海廉政監督局咨询委员会委员); Advisory Committee Member, Zhuhei Wangqing Anti Corruption Bureau(广东珠海横琴新区"廉洁岛"顾问委员会成员); Advisor, Hunan Anti Corruption Research Centre(湖南省湖南商學院廉政建设協同創新中心顧問); Member of Advisory Board, Qing Feng Integrity Magazine(清風雜誌顧問委员会委员); Training Advisor, Anhui People's Provincial Procuratorate(安徽省人民檢察院培训顧問); Arbitrator, Wuhan Arbitrator Commission (武汉仲裁委员会仲裁員) and International Advisor, China Public Integrity Education Network(中国廉政教育网络国际顾问).
In Hong Kong, he assisted the Hong Kong University SPACE in designing the world's first International Postgraduate Certificate Course in Corruption Studies and he is the Adjunct Professor and Honorary Course Director. Since the first launch in 2003, 14 annual courses have been orgainized and it has attracted over 360 delegates, mostly senior officials of anti corruption agencies, coming from 38 countries. He received the "Outstanding Teacher Award" from the University in 2006. In 2010, he launched a pilot course with the University called "Senior Executive Certificate Course on Institutional Integrity Management and had attracted participants from both public and business sector to attend. He is also the Course Coordinator of the Executive Certificate Program on Strategic Management of Corruption Control, a joint project of the Malaysian Anti Corruption Academy and the Asia Development Bank. He lectured as Visiting Expert annually (2002-2008 & 2011-2016) at the International Corruption Control Training Course of the UN Asia & Far East Institute on Prevention of Crime (UNAFEI) in Japan. In 2011 & 2012, he was the only Asian Visiting Lecturer at the International Anti Corruption Summer Academy Course in Vienna, on each occasion, attended by 70 participants from 60 countries.
During his ICAC career and after his retirement, he is often invited to deliver speeches at prestigious international anti-corruption forums, including the Asian Organized Crime Conference in San Francisco, USA in 1991, the 7th International Anti-Corruption Conference in Beijing in 1995, the 3rd International Financial Fraud Convention in London in 1998, the International Seminar on Prevention of Economic Crimes in Shanghai in 1999, , the 2nd Global Forum on Fighting Corruption in Hague in 2002, The LawAsia Conference in Tokyo in 2003, the United Nations Conference on Crime Prevention in Bangkok in 2005, the United Nations Expert Workshop in Turin in 2006, the 6th Conference of the IAACA in Kuala Lumpur in 2012, and 7th & 9th Regional Seminar on Good Governance for South East Asian Countries in 2013 & 2015 in Kuala Lumpur and Jakarta respectively and the International Audit Conference in Chiangmai in 2016.
His successful experience in fighting corruption was carried in many feature articles of international newspapers, including the International Herard Tribute, AFP, Financial Times London and the South China Morning Post. Search on "Google" can retrieve over 5,000 entries on his news reports and interviews. His publications include "Comparative Studies of the Anti corruption system in 38 jurisdiction – HKU SPACE 10th Anniversary Commemorative Book on the Postgraduate Certificate in Corruption Studies, 2012", Co-writer in the book "Practice Meets Science – Contemporaty anti corruption dialogue Volume 1" published by the International Anti-Corruption Academy (2011), "365 Stories to my daughters" in 2007. He has set up his own homepage http://www.kwok-manwai.com to share his experience through publication of his writings, speeches and media interviews.
He regularly contributed articles to newspapers commenting on current affairs in Hong Kong, including the South China Morning Post and China Daily, and is a regular commentator with Speakout.com. He is a member of the Advisory Board of Our Hong Kong Foundation and the Council member of Hong Kong Development Forum. . He is also the Hon President of the Hong Kong ICAC Retired Officers Association.
Mr. KWOK obtained a Diploma in Management Studies and a Master of Business Administration (MBA) following completion of part-time evening courses at the Hong Kong Polytechnic and City University respectively. He attended a number of residential police management courses in the UK, including the prestigious six months Senor Command Course at the Police Staff College at Bramshill. He also attended a six-week China Studies Course at the Tsinghua University in Beijing, China. He had been a member of the Chartered Institute of Management in England since 1990 and a Fellow of the Institute since December 1994 (FCMI). He was the former chairman of the Institute's Hong Kong Branch.
Mr. KWOK is married with three daughters. He enjoys Taichi, scuba diving, golf, table tennis and squash. He is the Honorary Advisor to Hong Kong Squash and former Chairman of its Executive Committee.
In the Hong Kong National Day Honour List, Mr. KWOK was awarded the ICAC Distinguished Service Medal (IDS) by the Chief Executive in 1998 and the Silver Bauhinia Star (SBS) in 2002, in recognition of his contribution to the success of ICAC in the fight against corruption in Hong Kong. On 1st November, 2013, he was conferred with the Honorary University Fellowship by the Open University of Hong Kong, in recognition to his contribution and education in the anti corruption field in Hong Kong and internationally and on 29th November, he was also conferred with the inaugural Honorary Fellowship by the Hong Kong University School of Professional & Continuing Education (HKU SPACE) in recognition of his contribution to the School and the world in the anti corruption education. In November, 2015, he was appointed as a member of the Court of the City University of Hong Kong. On 1 July, 2017, he was appointed by the Chief Executive as the Justice of the Peace (JP).