Introduction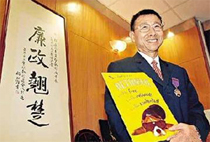 I retired in October 2002 in my post as Deputy Commissioner and Head of Operations of the Independent Commission Against Corruption (ICAC) in Hong Kong, having occupied this post for 6 1/2 years overlapping the very important historical milestone of the Reunification of Hong Kong.
The purpose of this personal homepage is to share my 27 years anti-corruption experience as a personal contribution to the international efforts in fighting corruption.
I joined the ICAC almost since its inception in 1974 and had witnessed and participated in our successful battle to combat the then very widespread and syndicated corruption. The Hong Kong experience demonstrates that it is possible to eradicate corruption, no matter how serious is the problem, given the political will and a professional anti-corruption body.
I have developed a strong passion in the fight against corruption and I hope to be able to devote part of my retired life to provide voluntary anti-corruption consultant, advisory or training service to those organizations who may find my experience and knowledge useful. Hence, you are most welcomed to draw the information from this homepage and to contact me if you think I can be of help to your organization or country.